Mill Waters photography competition - Spring 2021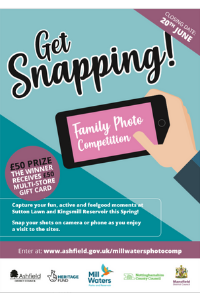 Mill Waters is holding its second photography competition.
The first prize will win a £50 multi-store gift card.
Photographs should be taken at a Mill Waters site (Kings Mill Reservoir or Sutton Lawn) and must be taken during the duration of the competition.
The competition is open from 20 April to 20 June 2021.
Please ensure you have read the terms and conditions before entering.
Good luck!
How to enter
The competition is open between 20 April and 20 June 2021. 
All entries should have a maximum file size of 2MB, and should be either a JPEG or a PNG file.
All photograph(s) entered must be taken by yourself and must be taken between the competition opening and closing dates.
Any photographs entered should be taken at the Kings Mill Reservoir or Sutton Lawn sites.
Under 16s can enter but we will need a parent or guardian's name. 
You should read the full terms and conditions, and our competition privacy notice, before submitting an entry.
Winners will be notified by 9 July 2021.