Bogus caller and attack buttons
Bogus caller and attack buttons can be placed around your home to give you the reassurance that help is there if needed. Whether you're worried about being vulnerable to distraction burglaries at the door, or have experienced domestic violence the button means you're connected to the Lifeline call centre straight away. 
How the bogus caller button works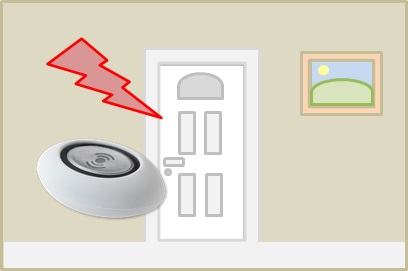 Bogus caller buttons are wall mounted discreetly by your main door and can be activated if you receive a doorstep caller that you are uneasy about.
It is up to you whether we configure the button to make an audible or silent alarm call. The Lifeline base unit must be situated somewhere close to your door to ensure we can hear both you and the visitor. If there is cause for concern we will warn the caller that the police will be summoned if they refuse to leave.
How the bogus caller button helped Harry
Harry lives alone in a quiet cul-de-sac. Although he usually felt secure in his bungalow, when a spate of distraction burglaries occurred in the area - including some of his friends on the same street - he started to become worried.
Determined not to allow his confidence to be knocked, Harry invested in a Bogus Caller Button, which is wall mounted next to his front door. Now if anyone comes to the door that he feels nervous about, he presses the button so the call centre can listen in. Harry knows that if anything untoward should happen, the call centre operator will call the Police and help will arrive quickly
How the attack button works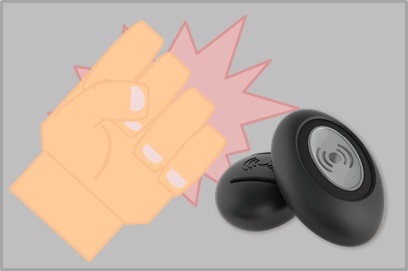 Attack buttons are worn around the neck, wrist or on a belt clip and are activated in the event that you feel threatened or are under attack.
The button emits a silent call to the call centre and connects in 'listen mode' only. We can then listen into the situation and call the emergency services if required. The perpetrator will be unaware that the unit has been triggered or has connected so as not to make the situation worse.
How the attack button helped Sam
Sam has just left a volatile relationship as his ex-partner had been becoming increasingly emotionally and physically abusive.
One night Sam's ex-partner arrived at his new home threatening to break in and hurt him. After reporting the incident to the police Sam began to research different alarm systems that he could have installed in his home. He liked the idea of an emergency button that dialled directly through to the police but they were all so expensive. Broadening his search, he happened upon the Lifeline system and our attack alarm.
Now he feels confident that he can summon help if his ex-partner does manage to get into his home as the call centre operators will call the police immediately on his behalf.
Talk to us about Lifeline and assistive technology
If you'd like to discuss your needs and see how we can help you then contact us by: 
If you're ready to sign up for Lifeline and assistive technologies you can sign up online. 
If you already have Lifeline equipment but are experiencing a problem with it try our troubleshooting page or report a fault to us.