Flood detector
For those who are likely to leave taps running the flood detector is an early warning to help prevent water damage to the property. 
How the flood detector works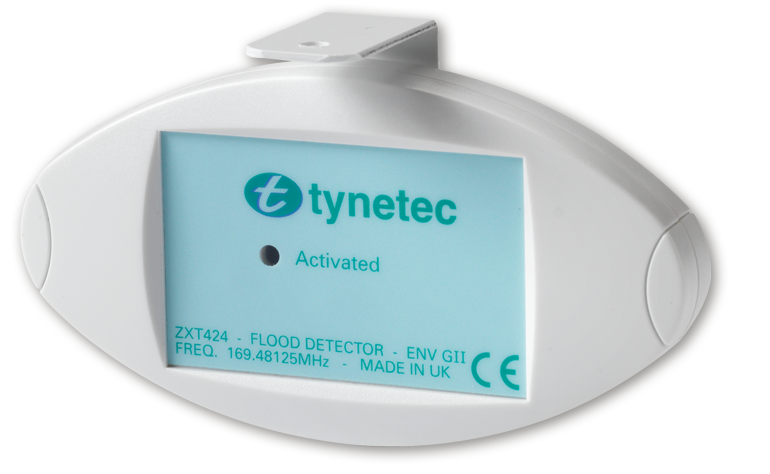 The detectors are placed, freestanding, on the bathroom or kitchen floor near to the sink or bath. They can also be attached to the skirting board using a small bracket, which is included.
When moisture is detected by the sensors on the unit, a call is automatically placed to the call centre. The call will display as a Flood Detector Alert so we are immediately aware of what the problem may be and can get the right help quickly.
How the flood detector helped Mavis and Joseph 
Mavis and Joseph live in a first floor flat. Joseph is Mavis' full-time carer, as Mavis has advanced dementia.
Joseph was scheduled to have a heart bypass and knew a stay in hospital was inevitable. However, he was concerned as Mavis had a habit of leaving the bathroom taps running, which had once caused damage to the flat below.
Carers would be visiting Mavis in the morning, and Joseph and Mavis' daughter would be popping in to check on her mum after work, but by then the flat could be flooded. Joseph's friend mentioned assistive technology after reading a leaflet about it in his GP surgery.
After a little bit of research, Joseph was able to arrange the installation of a Lifeline unit with a flood detector, which set his mind at rest about leaving Mavis alone at home while he went into hospital.
Talk to us about Lifeline and assistive technology
If you'd like to discuss your needs and see how we can help you then contact us by: 
If you're ready to sign up for Lifeline and assistive technologies you can sign up online. 
If you already have Lifeline equipment but are experiencing a problem with it try our troubleshooting page or report a fault to us.