Property exit sensor
People with dementia can become disoriented and leave their properties - often at times of the day that make them more vulnerable. Once disoriented, people living with dementia can compromise their own personal safety by forgetting where they are or entering dangerous places unknowingly.
The property exit sensor is designed to send an alarm if it detects someone has left their property outside pre-arranged times. We will then contact their next of kin or carers and alert them that the user has left their property.
This minimises the chance of encountering danger and can help get them back to their property safely and quickly.
How the property exit sensor works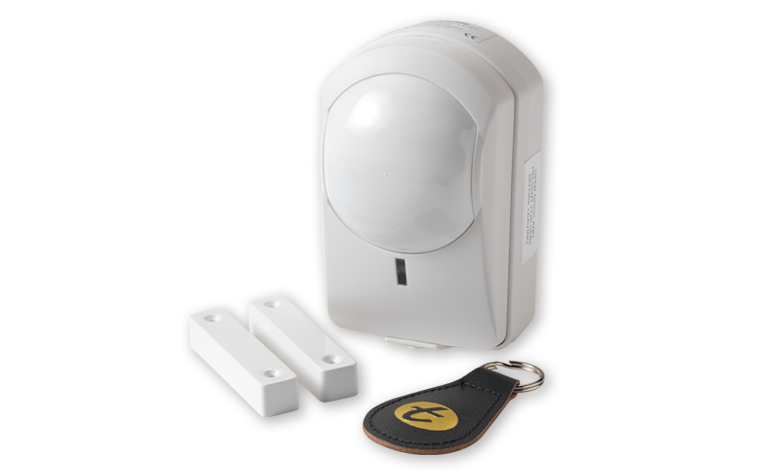 The property exit sensor registers when the door has opened and closed with two magnetic contact strips - one connected to the door and one to the door frame. A sensor detects movement near the door and will send an alarm to us if no movement is detected inside the property once the door has been shut. 
The alarm will also trigger if the door has been left open for a long time.
Once the alarm is raised to us we can speak through the First4Support Lifeline to check the person has left, minimising false alarms. If there is no response, we will set the wheels in motion and arrange for help to be made available.
The sensor also comes with a magnetic fob that can be swiped by visitors or carers as they leave the property so as to not trigger the alarm. This function means you can still vacate your property to go shopping or for days out but only with responsible company. The fobs can be hidden in the property near the door for guests to use, or additional fobs can be purchased and distributed to regular visitors individually.
How the property exit sensor helped Janet
In her earlier life Janet worked in a local factory for 20 years. She has since retired and has recently developed an early onset of Alzheimer's Disease.
Her daughter, Laura, provides regular care for her on evenings and weekends. Janet once left her property whilst Laura was cleaning in a different room. Laura went looking for her and eventually found Janet walking along the main road back towards her house. When Laura asked where Janet had been she replied she was walking home from work.
Laura became concerned for her mother's health, understanding that dementia can cause disorientation and memory loss. Janet had forgotten she was retired and gone to work but had found the factory closed and returned home. Laura was not too concerned about Janet leaving in the day time as it was light outside and Janet is a recognised face in the community, having lived there for 35 years. Laura was concerned Janet could leave at night and began to worry about the main roads Janet had to cross to get to the factory - especially considering the lorries that come and go after hours.
Laura enquired about a property exit sensor as she did not want to put her mum in full time care. Laura wanted her mum to keep some independence and social interaction, so she asked if the property exit sensor alarm delay could be programmed to 15 minutes as Janet likes to talk over the fence to her neighbours on the front garden. This setting sends an alarm if Janet is outside for more than 15 minutes. Janet's neighbour is one of her contacts on our system so we ring her neighbour when the alarm is triggered to see if Janet is with them. If the neighbours have not seen her or are unavailable we ring Laura who knows to go looking for her.
How the property exit sensor helped Adam and Lucy
Adam had a severe sporting accident that left him with a brain injury. He recovered well with the help of rehabilitation and has managed to gain back some of his independence but still suffers from episodes of short-term memory loss. He finds audible alarms helpful for things like remembering to switch the oven off but easily forgets things that don't make a sound to remind him, such as closing windows before he goes to bed or shutting the door after he takes the bins out.
Adam lives with his girlfriend Lucy, who decided to go back to work once Adam started making good progress in his recovery. Lucy often travels long distance for work, sometimes not getting home until the early hours of the morning. Lucy had returned home on several occasions to find the door and the downstairs windows wide open. With cold nights closing in, Lucy decided to look into some Telecare equipment to help support Adam's independence while she was away.
Whilst looking online, Lucy saw the property exit sensor that could send an alarm to the call centre when he had left the door open. We would ring Adam and Lucy's landline when the alarm is triggered and remind Adam the door has been left open. Lucy was confident in Adam's ability to leave the property independently so gave him the fob and explained how it worked as she did not want to restrict him to the house.
Whilst looking, she also decided a temperature extremes sensor would benefit Adam's situation as it registers cold temperatures as well as heat. This could send Adam an alert if he was upstairs and had left the downstairs windows open, making the downstairs rooms cold while Adam was in bed. It also has the added benefit of acting like a heat detector, which can send an alarm if Adam ever becomes distracted whilst cooking and has an incident in the kitchen.
Talk to us about Lifeline and assistive technology
If you'd like to discuss your needs and see how we can help you then contact us by: 
If you're ready to sign up for Lifeline and assistive technologies you can sign up online. 
If you already have Lifeline equipment but are experiencing a problem with it try our troubleshooting page or report a fault to us.