Smoke, heat or temperature extreme sensors
For those who might not recognise they were in danger, or wouldn't react to a conventional smoke alarm, we have a range of devices which work with the Lifeline unit. 
How smoke and heat alarms work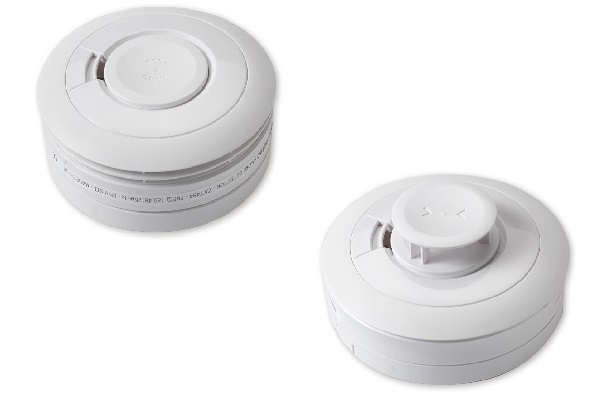 On sensing smoke, the assistive technology smoke detector emits an alarm within the property and automatically places a call through to the call centre via the Lifeline unit. The call displays in the call centre as a smoke alarm, so the operator is immediately aware that there could potentially be a fire in the property.
Since assistive technology smoke detectors are not suitable for use in the kitchen. Heat detectors are also available that use a Thermistor sensor to register extreme heat instead of smoke. This means they can be used in the kitchen, or any areas with a high level of fumes or dust.
Once triggered we'll speak to you via the Lifeline unit to check whether you need help and if so we'll contact the emergency services. If it unclear, we will always call the Fire and Rescue service without delay.
How a smoke detector helped Bill
Bill lives alone and generally manages to live independently. However, his family started to notice the occasional lapse in judgement and suspected the onset of dementia.
While visiting her father one evening, Bill's daughter Katherine noticed he had left the oven on with his meal still inside and became concerned that he was at risk of accidentally starting a fire. Worse still, Katherine couldn't be sure that he would respond to his current smoke alarm as it seemed he had disregarded his kitchen timer, despite taking it through to the living room with him.
Katherine arranged the installation of an assistive technology smoke detector in her father's hallway and now feels reassured that the call centre would arrange immediate assistance in the event of a fire.
How a heat alarm helped Arthur
Arthur is a heavy smoker. He asked his friend to remove the smoke alarm that was already installed in his flat as he got sick of it sounding every time he wanted a cigarette.
Arthur has been known to fall asleep with a lit cigarette and although he has woken up to find patches of the carpet beginning to smoulder, he has thankfully never had a serious fire break out.
Following a visit from a home safety advisor at the Fire Service, Arthur agreed to the installation of a heat detector. This doesn't sound when he is smoking, but would alert the call centre in the event that a fire was started.
How temperature extreme sensors work
Temperature extremes sensors provide an early warning of extreme high temperatures, but will also register extreme cold too.
It will sound if:
temperature falls to less than 5°C and remains that way for 30 mins
temperature rises above 30°C and remains that way for 30 mins

temperature rises at a rate of 8°C per minute
Once triggered we'll speak to you via the Lifeline unit to check whether you need help and if so we'll contact the emergency services.
How the temperature extreme sensor helped Sarah
Sarah lives alone and is growing increasingly concerned about the amount she is paying out for her gas and electricity.
Sarah's friend Edith visits from time to time and was shocked to find the property so cold last time she visited Sarah. After asking her why it was so cold, Sarah told her that she had worked out she could save a little bit of money if she didn't use her central heating during the Winter months.
Edith knows that like her, Sarah suffers with COPD which makes her more susceptible to pneumonia if she catches a cold or has the flu. She helps Sarah to claim for financial assistance to help with her fuel payments, but is worried that since Sarah is now in the habit of turning off the heating, she may continue to do so.
Edith arranged to have a temperature extremes sensor fitted in Sarah's living room so she can make sure that Sarah stays warm in the cold weather.
Talk to us about Lifeline and assistive technology
If you'd like to discuss your needs and see how we can help you then contact us by: 
If you're ready to sign up for Lifeline and assistive technologies you can sign up online. 
If you already have Lifeline equipment but are experiencing a problem with it try our troubleshooting page or report a fault to us.