White Ribbon campaign
We are White Ribbon Accredited due to our commitment of raising awareness of domestic violence within Ashfield and working to ensure support is available to those who are affected.
What is the White Ribbon campaign?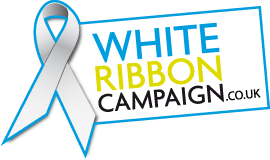 The White Ribbon campaign is a global campaign that encourages men within society to become positive role models and promote healthy relationships. They recognise that the majority of people affected by domestic violence are female by male perpetrators and they believe that men need to take responsibility in finding a resolution to this very serious issue.
The white ribbon campaign undertakes national awareness raising through towns, music and sport industries and education. In order to achieve this we are committed to raising awareness within Ashfield by:
undertaking community engagements throughout the district promoting support services.
selection of 4 male ambassadors to promote and raise awareness of white ribbon, internally and externally
providing information on our website for help and support
liaising with partner agencies and voluntary groups within the district, providing information on how to signpost those affected by domestic violence should anyone make a disclosure
encouraging male members of the public to wear a white ribbon and sign a pledge
We have followed on with this commitment by working towards:
ensuring all employees receive awareness training on domestic violence and abuse
contact numbers for support services are freely available for all
providing employees with an internal domestic violence policy which will support employees responding to disclosures.
Encouraging male employees to sign the White Ribbon pledge and wear a white ribbon, symbolizing their support towards the campaign
maintaining partnership working with external agencies
commemorating awareness dates and providing supporting information for all.
Ways to contact us about the White Ribbon campaign
You can contact us by: