Regeneration and funding
Funding news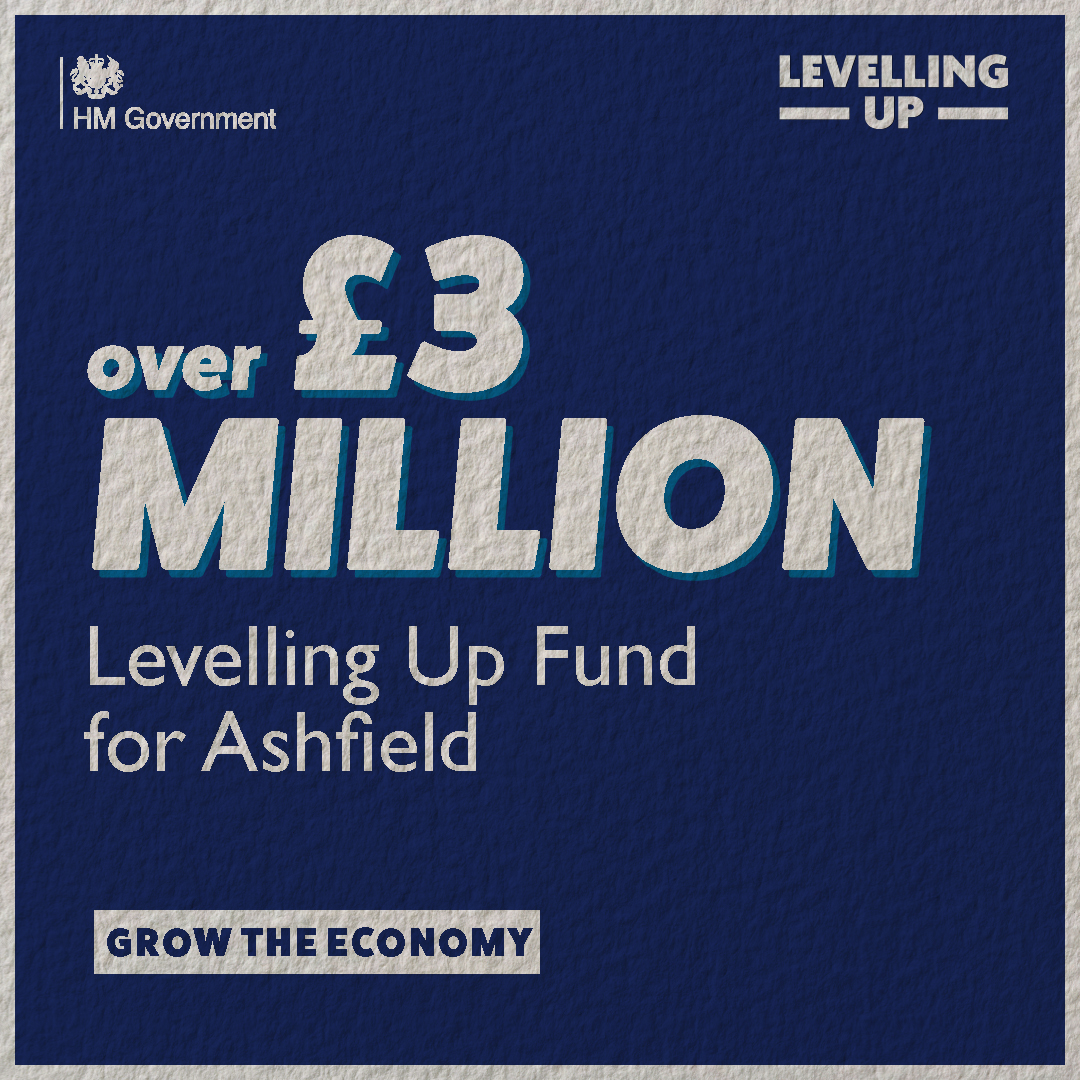 Sherwood Observatory funding success
An additional £3.1 million of funding has been secured for Sherwood Observatory from the Levelling Up Fund.
Mansfield and Sutton Astronomical Society have developed plans to create a unique experience with a new planetarium and educational centre at the Observatory site in Sutton. Funding was previously secured for the project through the Towns Fund, from the £62.6 million secured for Ashfield.

Further details on the project and funding of the Observatory is available in our news article:
The scheme will turn a disused underground Victorian reservoir into a state of the art tourist attraction and education centre. The reservoir will be repurposed to house a multi-functional exhibition area while preserving the existing architectural heritage features.
A 10 metre diameter planetarium, accommodating approximately 60 people per show, will sit on the reservoir's roof. It is set to become one of just a few UK destinations to combine a planetarium with an observatory.
The new centre has the potential to attract thousands of visitors a year to support the local visitor economy. It is seen as part of a 'golden thread' of projects supported through the Towns Fund Programme and Levelling Up Round 2 programme aimed at inspiring the next generation of STEM (science, technology, engineering, and mathematics) talent.
More support is needed to turn this exciting vision into reality and the project team will now be seeking to leverage further sponsorship from businesses and private sector grant funding bodies.
UK Shared Prosperity Fund (UKSPF)
Ashfield has been allocated £3,192,135 from the UKSPF to fund local projects for 3 years from 2022/2023 onwards. In addition, Nottinghamshire County Council will receive £4,255,273 from the government's Multiply programme to support adults to improve their numeracy skills.
The UK Shared Prosperity Fund will replace European Structural and Investment Funds (ESIFs) such as the European Regional Development Fund (ERDF) and the European Social Fund (ESF) which supported a range of job creation, innovation and skills programmes.
Investment priorities
The primary goal of the UKSPF is to build pride in place and increase life chances. The fund will improve the place people live in, and support individuals and business.
The investment will focus on three priorities:
1. Communities and place
Enable places to invest to restore their community spaces and relationships and create the foundations for economic development at the neighbourhood-level. The intention of this is to strengthen the social fabric of communities, supporting in building pride in place, activities that enhance physical, cultural and social ties and amenities, such as community infrastructure and local green space, and community-led projects.
Building resilient, safe and healthy neighbourhoods, investment in quality places through targeted improvements to the built environment and innovative approaches to crime prevention.
2. Supporting local business
Supporting local business investment priority will enable places to fund interventions that support local businesses to thrive, innovate and grow.
Creating jobs and boosting community cohesion, investments that build on existing industries and institutions, support for starting businesses to visible improvements to local retail, hospitality and leisure sector facilities
Promoting networking and collaboration, bringing together businesses and partners to share knowledge, expertise and resources, and stimulate innovation and growth
Increasing private sector investment in growth-enhancing activities, targeted support for SMEs for new-to-firm innovation, productivity-enhancing, energy efficient and low carbon technologies and techniques, and start or grow exports.
3. People and skills
To help reduce the barriers some people face to employment and support them to move towards employment and education. Places can also target funding into skills for local areas to support employment and local growth. From 2024-2025 onwards, unless projects meet the voluntary sector considerations (due to existing EU funding) UKSPF will be the main source of funding to support employment provision for economically inactive people. Local areas should ensure investment in employment support is tailored to local needs and facilitate the join-up of mainstream provision and local services, through the use of keyworker support and community interventions, including engagement with integrated care systems.
More information
You can find out more about the UKSPF on the government website:
£62.6 million has been secured for Ashfield as part of the government's Towns Fund.
The investment will deliver jobs and further education opportunities, long-term economic and productivity growth, new homes, improved transport infrastructure, reduced carbon and new cultural and visitor facilities.
The investment plan focuses on four areas:
Business & Education
Health & Wellbeing
Visitor Economy
Greener Ashfield
Here are Cllr Jason Zadrozny & Cllr Matthew Relf with more details on how the money will be spent.
For further information on the Towns Fund and information about the Towns Fund Board please visit the DiscoverAshfield website ; Discover Ashfield is overseeing the Towns Fund work.
This includes:
dates of meetings
agendas and minutes
membership of the Board
map showing the area in which projects can be funded
and other information. 
What is the Towns Fund?
The Government is making £3.6bn available to regenerate over 100 towns across the UK.
Kirkby in Ashfield and Sutton in Ashfield were chosen by the government in Autumn 2019, as two of the towns to receive funding of up to £25 million each.  Since then, we, together with the Discover Ashfield Board have been working closely with stakeholders including business, education, health, transport, and local elected Members to develop the Kirkby and Sutton Town Investment Plan.
Although we could only apply for funding for projects located in Kirkby and Sutton, the whole District will benefit from this investment.
The Government set out the three areas of regeneration the Towns Fund will focus on:
urban regeneration, planning and land use
skills and enterprise infrastructure
digital and transport connectivity. 
A public consultation for Kirkby and Sutton was undertaken during May 2020. Over 1300 responses were received which helped shape the investment plan and the projects included.
One winner from each survey was presented with their prize. To take a look at the presentations to winners see our Facebook page. 
The Town Investment Plan was developed over the following eight months and submitted in February 2021.
On 8 June 2021 the government announced that it was awarding the Kirkby and Sutton Town Deal £62.6 million. Together with funding secured from the Towns Fund Accelerator Fund and the Future High Streets Fund, over £70 million has now been secured for Ashfield. Together with co-funding this will bring well over £100 million of investment into the District over the next five years.
What is the Kirkby and Sutton Town Investment Plan?
The investment will deliver jobs and further education opportunities, long-term economic and productivity growth, new homes, improved transport infrastructure, reduced carbon and new cultural and visitor facilities.
The investment plan focuses on four areas:
Business and education:
The centrepiece of the plan is an Automated Distribution and Manufacturing Centre to create a national centre of excellence focused on promoting and providing access to the latest technologies and best practice in automated distribution.
Two new education centres will provide opportunities for qualifications in construction and civil engineering. At Kirkby and Sutton libraries there will be new innovation centres which will support residents with digital skills, helping them access digital services, learn new skills and adapt to new ways of working.
Health and wellbeing:
A new Kirkby Health Hub and Sports Hubs at Kingsway Park and Sutton Lawn will give residents greater access to healthier lifestyles and help improve local health outcomes.
Boost visitor economy:
A new Planetarium and Science Discovery Centre at Sherwood Observatory will help inspire a new generation of scientists and engineers across the region.
A new leisure facility at Kings Mill Reservoir will offer a range of new water sports attractions for visitors from across the region. A network of cycling and walking routes across the area will connect visitor attractions, homes and places of work.
Make Ashfield Greener:
The gateway area around Kirkby train station will be developed to provide better access to the station and interchange to buses and the new cycle/walking network, to promote use of more sustainable forms of transport, as well as a programme to fit existing buildings with solar and other green energy sources.
Several projects are currently underway using the £1.5m from the Accelerated Towns Fund funding, including:
New Kirkby indoor market - Moor Market, opening 25 September 2021
Off-road cycle path improvements between Sherwood Business Park and Kirkby
New play area at Hornbeam Park, Kirkby
Purchase of vacant properties on Low Street, Sutton
Creation of a Centre of Excellence for disabled people in Sport and Theatre, at Portland College
Next stages
We have until June 2022 to prepare business cases for the 17 projects that will be delivered. This process has already started and we will be completing the business cases in batches to speed up delivery.
Now that funding is secured for projects in Kirkby and Sutton we will be focusing our efforts on accessing funding for the Hucknall area through the Levelling Up Fund, the latest government fund to be launched.
You can keep up to date with progress on Towns Fund, Future High Streets Fund and our wider regeneration programme by visiting:
Ways to contact us about the Towns Fund
Keep up to date with the Towns Fund, Future High Streets Fund and our wider regeneration programme progress or to contact us to find out more: