Part 1 - Annex of indicators
Prosperity Index 2022
Ashfield District rankings
The UK Prosperity Index is an annually populated document, developed by the Legatum Institute. It consists of detailed data on levels of institutional, economic, and social well being across the 374 boroughs, council areas, local government districts, and unitary and local authorities that encompass the four nations of the UK. The Index is specifically designed to be a transformational tool that allows citizens, local authorities, regions, and government to sharpen their understanding of what is working, track their progress over time, and hold leaders to account.
The aim is to see immediately where each district is under-performing, indicating where to focus bids for investment to make improvement in these areas. It also should be used to see where performance is higher (and celebrate its success with communities), and how best practice and collaboration can help the districts that have aspirations to improve.
The UK Prosperity Index 2022 outlines Ashfield's ranking as 257 out of 374 local authority areas in the UK, a 40 place decline from the UK Prosperity Index 2021 ranking (217 out of 374).
Pillar of prosperity

(breakdown)

Ashfield District 2022 ranking

(out of 374 UK local authorities)

Safety and Security
205 (up from 247 in 2021)
Personal Freedom
281 (up from 315 in 2021)
Governance
274 (up from 300 in 2021)
Social Capital
257 (up from 260 in 2021)
Investment environment
239 (down from 124 in 2021)
Enterprise Conditions
96 (up from 206 in 2021)
Infrastructure
43 (up from 121 in 2021)
Economic Quality
229 (up from 296 in 2021)
Living Conditions
174 (down from 74 in 2021)
Health
249 (down from 163 in 2021)
Education
328 (down from 310 in 2021)
Natural Environment
252 (down from 204 in 2021)
As you can see from the rankings, Ashfield has its areas of strength (e.g. Infrastructure – ranked 43, Enterprise Conditions - ranked 96, and Living Conditions - ranked 174), which should be celebrated and best practice should be used to support other districts that are under performing in these areas. However, the ranking within the Education pillar for the district is low.
Therefore, there is reason for this plan to be delivered in order to improve education in Ashfield across all sectors (pre-primary education, primary education, secondary education, higher education, further education, and adult education).
Our 10-year Education and Skills Improvement Strategy will drive the need for investment within Ashfield's education sector, hence improving our rankings on a year by year basis.
East Midlands ranking
UK Prosperity Index 2022
The East Midlands are currently ranked 7th out of 21 regions within the UK, averaged across all pillars of prosperity.
Levels of prosperity differ across the East Midlands. As a whole, the region has good Enterprise Conditions, Living Conditions, and Social Capital, while it is particularly weak in the National Environment, Infrastructure, and Education. There is a wide variation within the region. Rural local authorities, such as Rutland, are much more prosperous than those in urban or dispersed urban clusters.
Overall, this ranking should be celebrated, especially across pillars where the East Midlands have ranked highly (including Enterprise Conditions - 1st, and Living Conditions - 6th).
Ashfield ranking in the East Midlands
Ashfield are ranked 27 out of the 35 districts within the East Midlands region. This plan will support our aspiration to move up the rankings within the East Midlands on a year by year basis.
Education
Education is a building block for prosperous societies; the accumulation of skills and capabilities contributes to economic growth and education provides the opportunity for individuals to reach their potential, and live more fulfilled and prosperous life. A better educated population also leads to greater civic engagement and improved social outcomes – such as better health and lower crime rates.
East Midlands is ranked 15th out of the 21 regions in the UK, across all stages of education. Only Rutland, Rushcliffe and Broxtowe districts are in the top quartile nationally. Less than, pupils in 40% of low income households pass GCSE English and Maths, which is one of the lowest rates in the UK. Furthermore, adults in this region have low levels of qualifications. The most successful aspect of education in this region is the progression of school leavers to both apprenticeships and further education courses.
Ashfield ranking - Education pillar
In the UK Prosperity Index 2022, Ashfield is ranked 328 out of 374 local authorities within the Education pillar, so there is a need for this action plan to help improve education within the district.
Education sector rankings in Ashfield.
Areas of focus in the plan will be to improve primary education (ranked 316 out of 374), secondary education (309 out of 374)  and adult skills (ranked 300 out of 374) within the Ashfield district.
Having a 10-year Education and Skills Improvement Strategy will give us a desired focus, which will allow us to work towards our aspiration of being a highly ranked district for education in the region, and assist in improving East Midlands ranking within the UK for education. The plan will also give us the desired focus to improve our local authority ranking for education within the UK.
The full UK Prosperity Index 2022 document, including more information on each pillar of prosperity, is available online:
Education sectors analysis explained:
Pre-Primary education - 10%
Captures how well early education is attended and the educational outcomes of early childhood education. It supports the development of linguistic, cognitive, social, and emotional skills.
Captures the provision and outcomes of primary education in a local authority area, including core literacy and numeracy skills
Secondary education - 30%
Captures provision and outcomes of secondary education in a local authority, including core literacy and numeracy skills. Attaining level 2 qualification in English and Maths are an important step in an individual's educational journey.
Tertiary education provision - 10%
Captures the extent to which students from a particular local authority will go onto further education, either through apprenticeship or university.
Captures the level of skills in a local adult population, by measuring the number of adults with different level of qualifications.
Education and Skills development organisations based in Ashfield
Vision West Nottinghamshire College
The Vision West Nottinghamshire College main campus in Mansfield is on the Ashfield boundary, with specialist centres for construction and engineering located in the Kirkby and Sutton area. The Vision University Centre at the main campus operated by Nottingham Trent University delivers Higher Education including Nursing and Allied Healthcare. Local Growth Fund investment is over £3 million, with £600,000 recently committed to an Automation and Robotics training facility to address the risk of automation impacting on employment.
The partnership between the College and the University has significantly enhanced skills provision and includes a wide range of foundation degrees to increase accessibility for local people to achieve key and higher level skills, including social care, paramedic training, business and computing and technology. The programme reflects the current and forecast employment growth in the key sectors for the area.
Nottingham Trent University (NTU)
Nottingham Trent University (NTU) is an award-winning university (University of the Year 2019, Times Higher Education Awards). Close proximity to a university is recognised as a driver of innovation, with an active NTU presence in the area this can lead to an increased number of partnerships with local businesses, to develop new products and processes, and increase efficiencies. Delivery of NTU economic programmes can help to stimulate the demand for higher value jobs in the local area and working with Vision West Notts College, helping to create a growing pool of highly skilled local people who can work in growth sectors helping to re-balance Ashfield's economy towards higher value and skilled jobs, making it more resilient and more able to capitalise on higher value opportunities to attract investment.
Inspire
Inspire provides courses for young people aged 16 to 24 in Health and Social Care and Construction, from their specialist centre in Sutton in Ashfield. Inspire is a charitable community benefit society that delivers cultural, learning, library and heritage services across Nottinghamshire, for the county council.
Sutton Community Academy
Sutton Community Academy (Academy Transformation Trust - ATTFE), provides vocational qualifications for young people and adults, including Construction trades with an emphasis on progression routes for learners with lower prior attainment.
Portland College
Portland College is the largest Further Education provider for High Needs Students in Nottinghamshire. Located south of Mansfield on the eastern edge of Sutton in Ashfield, the college provides a wide range of specialist support services to help learners access mainstream further education and employment.
Futures
Futures are a not for profit organisation that specialise in careers advice and vocational training for both adults and young people. They are an OFSTED Outstanding provider of the National Careers Service; offering fully funded careers advice to adults within the East Midlands region. They have offices in both Mansfield and Nottingham; with satellite centres in the Ashfield district.
D2N2 area
The D2N2 area is the Advanced Manufacturing capital of the UK, with more manufacturing jobs than any other LEP (Local Enterprise Partnership) and the second highest manufacturing GVA (Gross value added) (£8.1 billion). Kirkby in Ashfield has large clusters of manufacturing and distribution businesses located principally to the north of the town centre, where there is good access to the A38 and Junction 28.
Sherwood Business Park is located to the south of Kirkby in Ashfield, off Junction 27 of the M1, with office and distribution space for over 70 businesses, including multi-nationals such as Dell, Eddie Stobart, E-On and L'Oreal.
Sutton in Ashfield accommodates substantial industrial and distribution sites with large clusters of manufacturing close to Junction 28 of the M1 and alongside the A38.
With the exponential growth of online sales during the pandemic lock down, distribution is predicted to be one of the fastest areas of economic growth, an Amazon distribution centre opened in autumn 2020, creating up to 1800 jobs.
Large companies are attracted by the proximity to strategic transport links, combined with a competitive labour market.
The health sector is a large-scale employer with King's Mill Hospital part of the local NHS Trust, which employs 4300 people. Other areas of employment include Romo Fabrics and furniture makers and pharmaceuticals companies Brightwake, Fresenius and Alloga.
Detailed breakdown of Industry clusters in Ashfield (ranked by job count)
The Office for National Statistics (ONS) populate annual surveys to capture how many employees are in each sector within an area. The latest survey was conducted in 2021 for Ashfield.
2021 Ashfield Industry Cluster table
(By job counts.)
| Industry | Job count |
| --- | --- |
| Human Health and Social Work | 15000 |
| Manufacturing | 8000 |
| Wholesale and retail trade, repair of motor vehicles and motorcycles | 8000 |
| Construction | 5000 |
| Transportation and Storage | 5000 |
| Education | 3500 |
| Accommodation and Food Service | 2500 |
| Administrative and Support Service Activities | 2000 |
| Professional, Scientific, and Technical Activities | 1500 |
| Electricity, gas, steam and air conditioning supply | 1000 |
| Information and Communication | 1000 |
| Public Administration and Defence, Compulsory Social Security | 1000 |
| Arts, Entertainment and Recreation | 800 |
| Other Service Activities | 500 |
| Real Estate Activities | 350 |
| Financial and Insurance Activities | 250 |
| Water Supply, Sewerage, Waste Management and Remediation Activities | 175 |
| Mining and Quarrying | 30 |
Ashfield's job count is high in industries such as:
Human Health and Social Work Activities (15,000 employees)
Manufacturing (8000 employees)
Wholesale and Retail Trade, Repair of Motor Vehicles & Motorcycles (8000 employees)
Construction (5000 employees)
Transportation and Storage (5000 employees)
Education (3500 employees)
Accommodation and Food Services (2500 employees)
Administrative and Support Service Activities (2000 employees)
Post pandemic, these are still high-profile sectors in Ashfield and this plan will ensure that residents have the skills to successfully pursue a career within these industries.
Development of sector specific training centres
Through successful investment, there is confirmed development of 2 sector focused training centres in the area. This will ensure there is a route for residents to gain the skills needed to progress into two high profile sectors within the Ashfield District:
Ashfield Construction Centre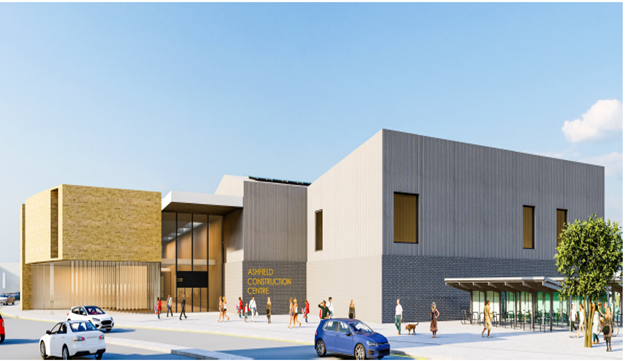 A partnership project with Vision West Nottinghamshire College (VWNC), Inspire, Portland College and Sutton Academy to provide a new Level 1 construction facility at a gateway site in Sutton which complements VWNC higher level courses at its campus in Kirkby. It also builds on the success of the current offer at the academy and Inspire in engaging with more disadvantaged learners. The Portland College campus will provide a satellite education centre for students with complex disabilities.
The facility will deliver training to young people aged 16 to 18. For learners with an Education Health and Care plan (up to the age of 24) a satellite centre will be developed at Portland College to provide a fully accessible and challenging entry to construction in a bespoke, purpose-built environment. This will cater for additional needs including positive behaviour support, access to a multi-disciplinary therapy team and a specialist delivery team. This intensive work on education, independence and employability skills provides the foundations to progression to the Ashfield Construction Centre.
Means for progression will be built into the designs for the centre, reinforced through active management to ensure managed transition between the varied provisions offered by the partner organisations. Support staff and a minibus fleet are in place to support staged transition.
Our ambition is to take a leading role in providing outstanding education and training within the construction, building services and engineering sectors and to lead the way in raising standards within industry, with a focus on sustainable construction methods. The centre will provide courses in all construction professions such as bricklaying, carpentry and joinery and plastering; building services including electrical installation, plumbing and heating, as well as motor vehicle mechanics and functional skills/GCSEs in English, maths and ICT.
There is also the potential for expansion for future delivery in more specialist areas, such as principal learning for construction and the built environment, construction and design management (CDM), BIM, concreting, form work, steel fixing and scaffolding.
Rationale:
Skills provision needs to be responsive to the demand for jobs in the local economy, helping to address constraints on economic growth in the region. Construction labour demand is forecast to grow significantly over the next 5 years and the new centre will help to meet this demand by increasing the number of qualified learners. 
An increase in learner numbers this academic year has and the impact of the pandemic have led to an increase in space demands for VWNC and Portland College. In addition one of the colleges is required to find an alternative site to operate from within the next 2 years. Collaboration between the colleges
More people educated to a higher level and have high value jobs
Less young people classed as NEET
More older people having second career
More disabled people in work
Attractiveness and perceptions of the area improved will improve outcomes for learners and also attract young people who would otherwise be at risk of becoming NEET.
Ashfield Civil Engineering Centre
Vision West Nottinghamshire College (VWNC) requires additional capacity to develop a new curriculum area with a focus on trades related to civil engineering, transport and environmental engineering.
The project involves the acquisition of a site in Sutton in Ashfield, in close proximity to the existing construction and engineering centres. The development of this site will allow the provision of a new curriculum area, increasing progression and job opportunities for local people. The vision is to replicate an outdoor working site which will provide real world experience for young people, better preparing them for work in these industries. A small facilities building will provide toilets, showers, lockers, kitchenette and office.
Developed in partnership with national employers such as A Plant, the site will offer provision within ground works, scaffolding, plant movement, rail and highways operations.
The curriculum would complement the new curriculum being developed for the Ashfield Construction Centre project and is a key component of the vision to create a regional skills hub in Ashfield.
The principles of site and project management would be embedded across the broad spectrum of construction offering, enabling students to add significant value to multi-disciplinary teams in industry.
New courses would span the following areas:
Construction engineers - transportation of materials and site development, evaluating logistical operations, reviewing contracts and coordinating contractors
Structural engineering - bridges, flyovers and other buildings
Transportation engineering - construction and maintenance of all forms of public transportation systems including roads, railways, ports and airports
Geo technical engineering – understanding soil science and material science as well as the mechanics and hydraulics involved in safely designing a range of structures and buildings
Environmental engineering - solid waste treatment/management, treatment of water sources and improving the quality of water and air. Understanding of atmospheric sciences and hydrology.
Rationale:
Due to site constraints at the existing engineering and construction centres in Kirkby in Ashfield and Sutton in Ashfield, an additional facility is required to expand the number of learner spaces. This is part of VWNC's development programme to support the future requirements for skills for specialist construction areas and seeks to address the skills shortage in a rapidly changing construction industry.
The development of HS2, significant planned construction on development sites across the region as well as skills shortages within the rail and highways industries make the case for such a development compelling. An ICE report commissioned in 2018 highlighted that more than 25% of senior managers overseeing projects reported significant challenges on projects as a result of skills shortages. Major areas of weakness were cited as specific technical skills, the ability to work on multi-disciplinary projects and an understanding of the broader context of a project. The report also highlighted that 50% of employers were unable to fill job vacancies due to skills shortages.
Data analysis of job opportunities within the East Midlands projects a 14% increase in job openings to 2023 within the skills areas that will be provided at the new centre.
There is a risk to the local area of significant migration of skilled workers to significant projects in the south of England, which will create greater skills deficit in the Midlands region. This project will help address this threat by increasing the number of learners and the breadth of the skills offer.
Ashfield businesses data
There were 4936 businesses in Ashfield (Source: FAME 21/06/2023).
Sector
Number of businesses
Business Services
968
Travel, Personal and Leisure
739
Construction
688
Public Administration, Education, Health, Social Services
540
Retail
373
Transport, Freight and Storage
360
Wholesale
337
Property Services
244
Computer Software
95
Metals and Metal Products
81
Wood, Furniture and Paper Manufacturing
56
Banking, Insurance and Financial Services
52
Agriculture, Horticulture and Livestock
50
Industrial, Electrical and Electronic Machinery
48
Chemicals, Petroleum, Rubber and Plastic
47
Miscellaneous Manufacturing
47
Textiles and Clothing Manufacturing
35
Food and Tobacco Manufacturing
33
Printing and Publishing
32
Media and Broadcasting
30
Utilities
17
Waste Management and Treatment
16
Communications
14
Transport Manufacturing
13
Mining and Extraction
8
Information Services
7
Leather, Stone, Clay and Glass Products
4
Computer Hardware
1
Biotechnology and Life Sciences
1
 
Local residents data and future aspirations
What we have
Population
The population of Ashfield in 2021 was 126,400 (NOMIS 2021), made up of:
Females - 49%
Males - 51 %
Economically Active/Inactive 
The population of Ashfield who were either employed, claiming benefits or economically inactive in 2021 were made up of:
Employed - 66,500 - 82.7% of the working age population
Claimants - 3415 - 4.37% of the working age population
Economically inactive - 10,700 - 13.7% of the working age population
Ashfield claimant count 2022
| Month | Percentage |
| --- | --- |
| January 2022 | 4.24% |
| February 2022 | 4.27% |
| March 2022 | 4.20% |
| April 2022 | 4.00% |
| May 2022 | 3.90% |
| June 2022 | 3.89% |
| July 2022 | 3.76% |
| August 2022 | 3.73% |
| September 2022 | 3.66% |
| October 2022 | 3.59% |
| November 2022 | 3.59% |
| December 2022 | 3.70% |
Qualification percentages for Ashfield residents
| Qualifications | Percentage |
| --- | --- |
| No Qualifications (2021) | 23.6% |
| NVQ level 1 and above (2021) | 86.5% |
| NVQ level 2 and above (2021) | 70.6% |
| NVQ level 3 and above (2021) | 50.2% |
| NVQ level 4 and above (2021) | 29.9% |
Information from Census 2021 and NOMIS 2021.
Employment count changes over last 10 years for Ashfield
(Data up to December 2021)
66,500
+ 28.8%
82.7% of the population aged 16 to 64 in employment
Housing
Average housing price in Ashfield District is:
£178,385
41% lower than regional average which £252,190.
Data from Varbes 2021.
Wages
Average pay for employees in Ashfield is:
Ashfield's average salary of £33,120
0.1% lower than regional average which is £33,156.
Data from Varbes 2021.
Digital skills
Digital skills information for the population of Ashfield:
12% of the population have no foundation digital skills.
Source: Citizens Online Survey (May 2020)
Future residents data aspirations
At end of the 10 year plan:
Reduce claimant count from 3.7% to lower than the percentage for the region (East Midlands), which is currently 3.3%
Ensure economic inactivity in Ashfield (currently 13.7%) remains lower than the regional percentage (East Midlands), which is currently 22.4%
Reduce "no qualification" percentage from 23.6% to lower than the percentage for England and Wales, which is currently 18.2%
"No foundation digital qualifications" has decreased from 12% to below East Midlands average, which is currently 9%
Increase "NVQ Level 3 or above" from 50.2% to higher than the percentage for the region (East Midlands), which is currently 55.9%
Increase average salary from £33,120 to higher than the average salary for the region (East Midlands), which is currently £33,156.
Top industry wages
In order to meet our aspiration of "Increasing the average salary from £33,120 (Varbes 2021) to higher than the average salary for the region (East Midlands) which is currently £33,156", we need to ensure that there are skills programmes to support residents to move into employment within the top sectors, such as:
Electricity, Gas, Steam and Air Conditioning Supply
Information and Communication
Manufacturing.