The area
Ashfield is situated in Nottinghamshire, nestled on the edge of beautiful countryside, with 3 vibrant towns and picturesque rural villages. Renowned for its welcoming, supportive and passionate communities, the area boasts a mix of beautiful countryside, complemented by award winning urban and country parks.
There are also some fantastic leisure centres and attractions for visitors. The area has excellent road, rail and transport links and access to a mix of affordable housing, schools, colleges, and shopping centres.
Ashfield District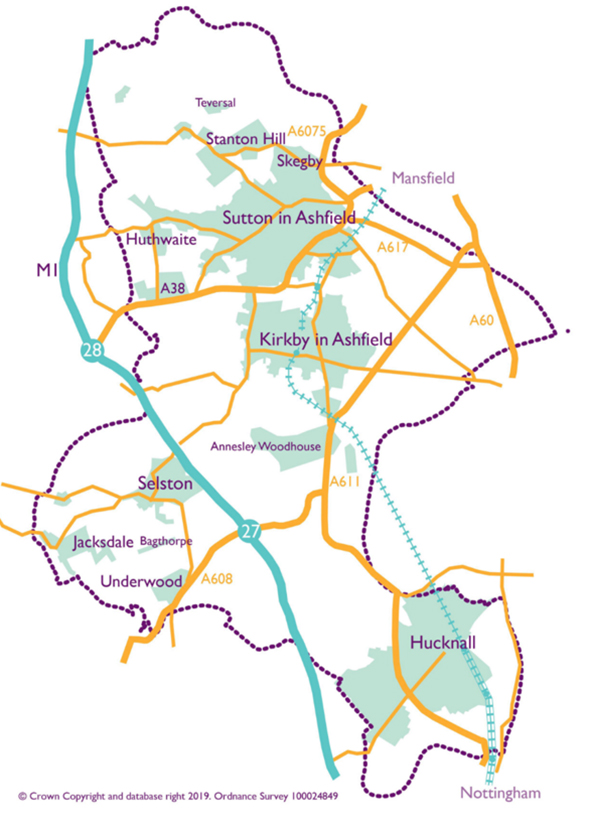 Ashfield District covers an area of 10,956 hectares and is located on the western side of Nottinghamshire. It has an estimated population of 126,600. The majority of this population together with associated housing, jobs and services, are concentrated within the three main towns of Sutton in Ashfield, Hucknall and Kirkby in Ashfield together with three large villages in the substantial rural area mainly to the west of the M1 motorway.
Economics
The main settlements share strong historic, economic and cultural links based around the growth and subsequent decline of coal mining, textiles and engineering industries.
This is reflected in Ashfield's rank as 63rd most deprived area in England out of 326 local authorities (IMD 2010), and the 7th most deprived in the East Midlands. Subsequently the economy has diversified and while challenges remain there is a significant amount of economic opportunity in Ashfield.
A recent investment by a major national company will see circa £175m on a major new employment site and 3000 new jobs. Sherwood Park near junction 27 of the M1 is the district's flagship development. The park hosts around 6,000 jobs and is home to such companies as:
EON
Pendragon
Boots
Tsubakimoto
Eddie Stobart
L'Oreal
Prolog
and Rolls Royce.
Culture, heritage, leisure and sports
Ashfield has a rich cultural heritage and excellent leisure and sporting facilities.
We are particularly proud of our cricket heritage through Harold Larwood and of our more recent Olympians Ollie Hynde and Becky and Ellie Downie.
Newstead Abbey (ancestral home of Lord Byron) lies just over Ashfield's eastern border and the Parish Church of St. Mary Magdalene in Hucknall is the final resting place of Lord Byron and of his daughter Ada Lovelace, revered by scientists as the first computer programmer.
Environmental reclamation has been achieved on many sites despoiled by the coal industry, resulting in a wealth of country parks, golf courses and development land. As a result Ashfield presents an attractive and clean environment in which to live and work.
Transport and travel 
The district also has excellent communication corridors through the A38 and junctions 27 and 28 of the M1, also boasting close proximity to East Midlands Airport.
The Robin Hood Line runs north south with 4 stations in Ashfield connecting Nottingham City to Worksop. Ashfield's location is so central that over 70% of the nation's population can be reached within 3 hours.